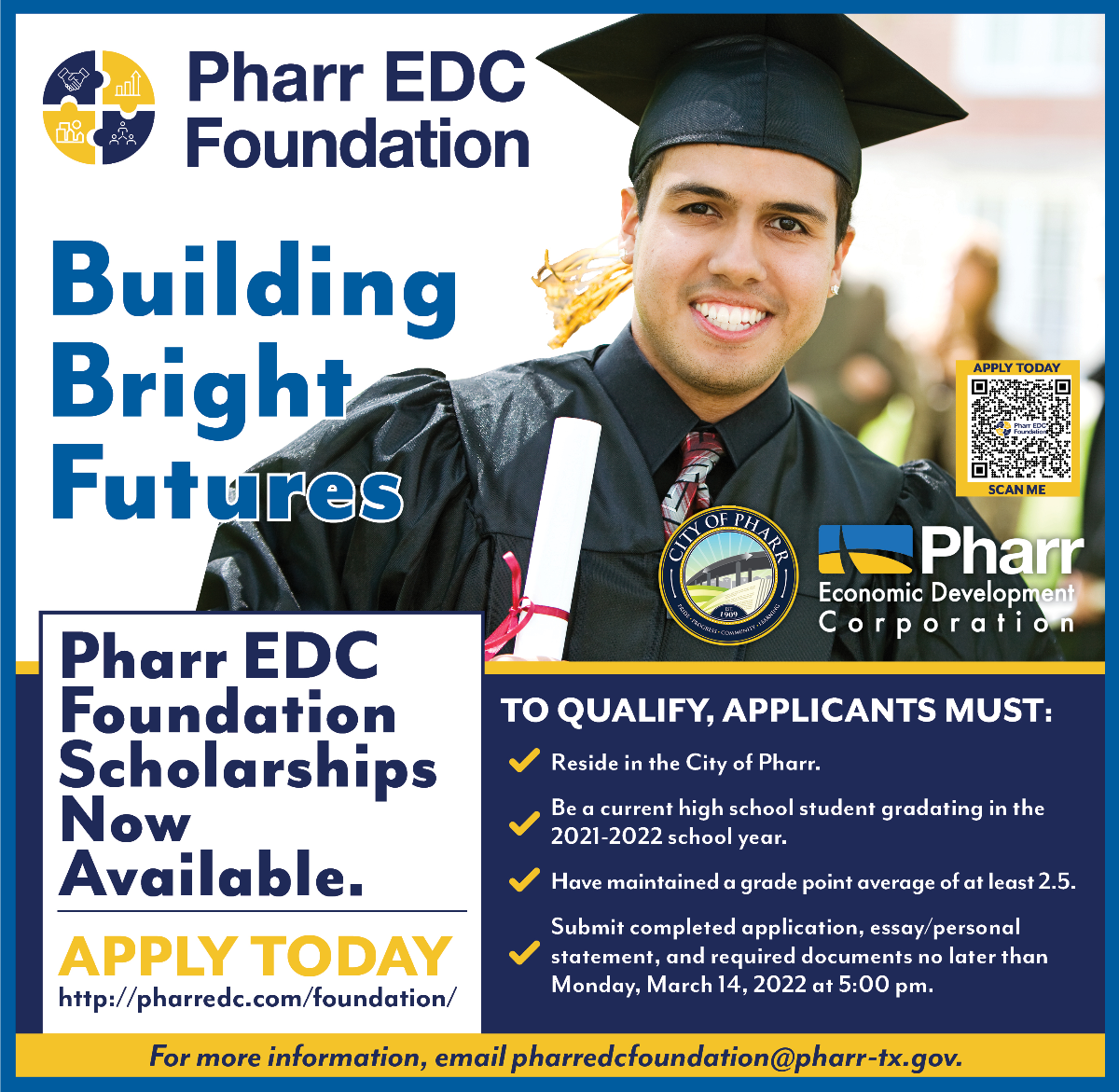 Pharr, Texas – The Pharr EDC Foundation, in partnership with the Pharr Economic Development Corporation (EDC) and the City of Pharr, is proud to announce that scholarship applications are now open and available for 2021-2022 graduating Pharr students.
Applications are available online at http://pharredc.com/[[foundation]] or can be picked up at the Pharr EDC (1215 S. Cage Blvd) in Pharr Monday through Friday between 8 am – 5 pm. The deadline to submit an application is Monday, March 14, 2022, by 5 pm.
"We are excited to open the Pharr EDC Foundation Scholarship to our Pharr community for this academic year," said Victor Perez, President of the Pharr EDC Foundation and Executive Director of the Pharr EDC. "There are many outstanding students in Pharr who are continuing their educational studies, but find themselves in need of financial assistance," he added. "Our goal is to ensure that no student has to put their education on hold as they confront these challenges," Perez continued.
The Scholarship Fund of the Pharr EDC Foundation was created for students of the City of Pharr who are enrolling in a qualifying post-secondary institution. In order to apply for the Pharr EDC Foundation Scholarship, a candidate must meet the following requirements:
Reside in the City of Pharr
Be a current high school student graduating during the 2021-2022 academic school year
Have maintained a grade point average of at least 2.5
Submit completed application, essay/personal statement, and required documents no later than March 14th, 2022 by 5:00 p.m.
Completed applications should be submitted to pharredcfoundation@pharr-tx.gov.
An Advisory Committee composed of Foundation Board Members will review the applications and recommend recipients to the full Foundation Board of Directors. The Pharr EDC Foundation shall notify the chosen scholarship recipient(s) of its decision. All scholarship checks will be processed in a timely manner. Scholarship awards can be used for tuition, room & board, books, or other supplies.
The Pharr EDC Foundation is committed to helping Pharr students achieve their educational and career dreams by helping them pay for college at all levels, whether it is for a trade or technical degree or a four-year university.
For more information about the application or should you have any questions, please contact Lilvette Santos, Pharr EDC Foundation Director via email at lilvette.santos@pharr-tx.gov.