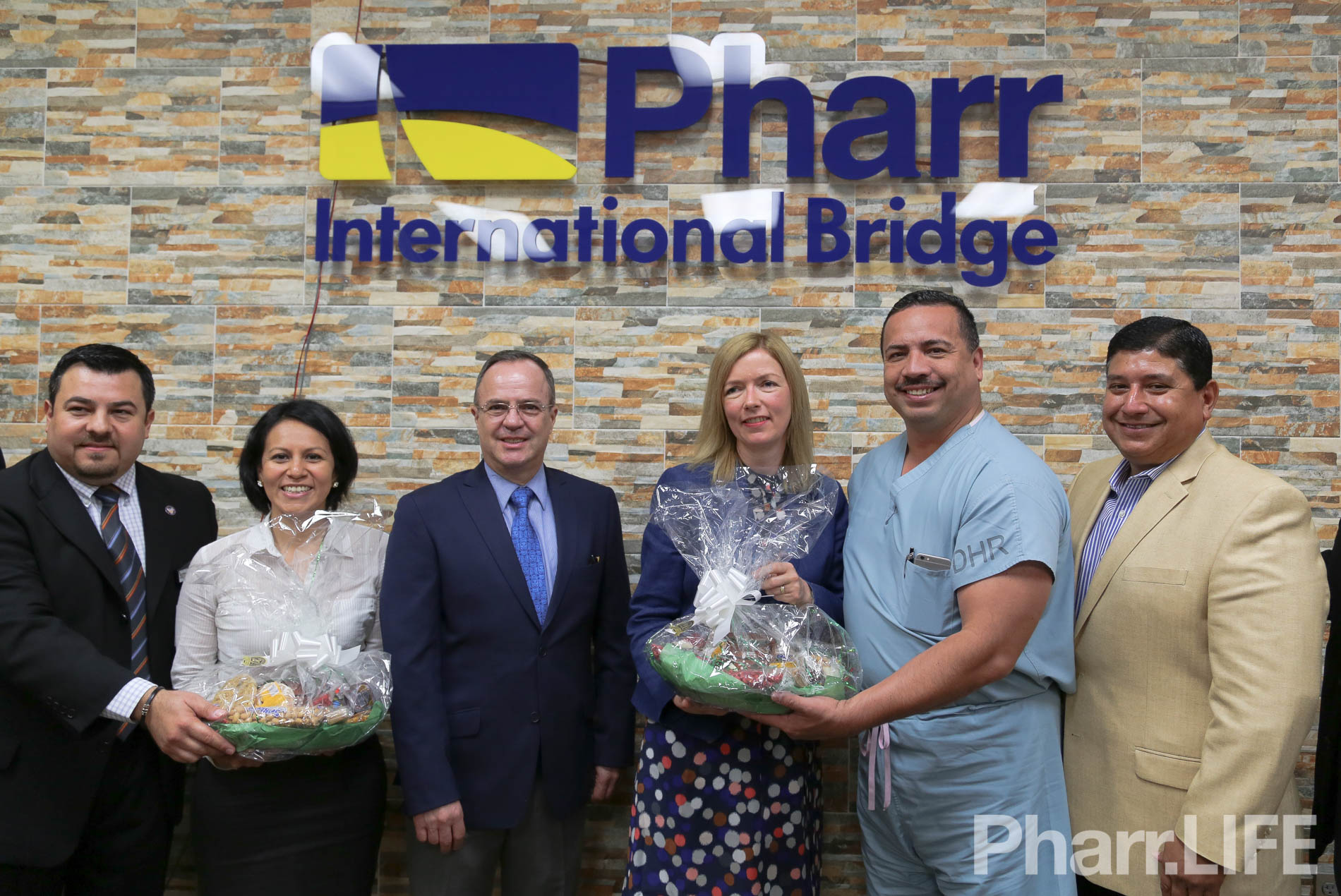 Collaboration and innovation is at the heart of everything taking place in Pharr.
That was the message Pharr Mayor Dr. Ambrosio Hernandez wanted to convey to delegates from the United Kingdom earlier this week.
The City of Pharr welcomed British Consul General Karen Bell on Oct. 13. The consul was making a whirlwind trip through the region, and was especially enthusiastic about development taking place at the Pharr International Bridge.
The consul was the guest of honor at a breakfast organized by Pharr officials who used the time to brief her on the economic impact and infrastructure development currently taking place at the bridge.
In attendance at the meeting was Mayor Hernandez, Mexican Consul based in McAllen Guillermo Ordorica Robles, Pharr EDC interim executive director Sergio Contreras, interim bridge director Luis Bazan, and Bridge Board chairman Edgar Delgadillo.
"You have a phenomenal scale of ambition in terms of your infrastructure plans. I'd be interested to hear how the financing for that works and whether there are opportunities for other international partners to come in an offer advice," Bell said at the meeting with Pharr leaders. "We are ready to provide opportunities for growing trade in both directions using this partnership between Texas and Mexico."
Appointed in July, Consul General Bell represents the UK in Texas, Oklahoma, Louisiana and Arkansas. Based in Houston, Bell is spearheading a number of projects currently underway in her consulate including a trade mission to London this December for US financial technology companies, and an MOU signed between the UK Satellite Applications Catapult and Houston Airport System, marking the UK as the first international partner for Houston's commercial spaceport.
Her visit to the Valley was a mission to gauge the area's economic growth and educational impact in communities. In Pharr, Bell was made aware that the city's bridge is currently the number one Port of Entry for produce in the United States.
"This is part of the reason that we wanted to see what is happening here on the ground. Certainly, the scale at which you are growing has redoubled my enthusiasm for the understanding that we can and should be doing more to promote UK participation," Bell said. "Whether it's getting traffic across the bridge, whether it's in terms of helping you to think about financing if that's an issue because public-private partnerships is something that we have developed quite an expertise for. If there is something more we can be doing in terms of the planning and development of the project as you move ahead, doubling the capacity of the bridge is an enormous engineering feat apart from everything else."
Pharr International Bridge crosses about 60 percent of all fresh produce coming into the U.S. from Mexico. In 2014 alone, Pharr accommodated $30 billion worth of trade with the world and 2015 looks to top that figure. The bridge is conducting a new study for 2016, and officials at the bridge say that number will climb to possibly $37 billion, which is record-breaking growth, according to Pharr leaders.
"At the heart of everything is collaboration and innovation," said mayor Hernandez in his remarks to the Consul. "You can see it here. It has worked wonderfully with the government of Mexico. We are happy to have you here, and wanted to make sure you saw first-hand, the growth that is going to occur in this area. We have a wonderful partner to the south of us. On behalf of the mayor's office, we are very glad to have you here today."