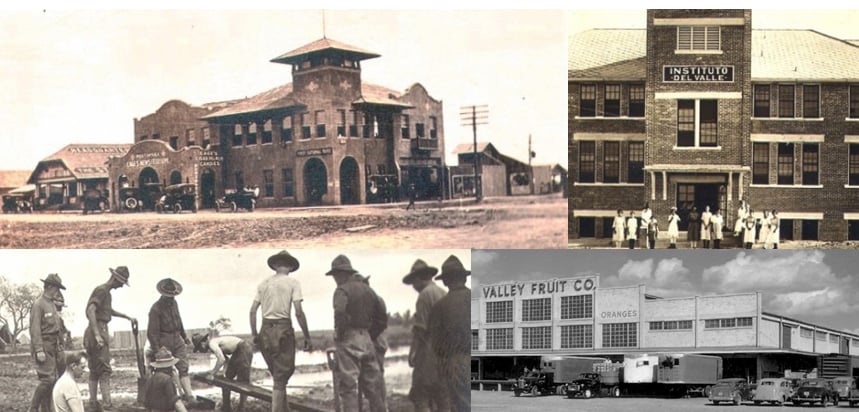 A Concise History of Pharr, Texas
Pharr, Texas is located on the Missouri Pacific line and old U.S. Highway 83, five miles west of McAllen in south central Hidalgo County. It is within a Spanish land grant made in 1767 to Juan José Hinojosa. The Hinojosa family and heirs sold off portions of their land to various groups in the late nineteenth century and occupied the area as late as 1882.
In 1909, John Connally Kelly and Henry Newton Pharr, a Louisiana sugarcane grower, became co-owners of 16,000 acres, with two miles of frontage on the river. Their partnership was formed after multiple meetings were held at the nearby Miller Hotel in Brownsville, Texas. Henry Pharr founded the Louisiana and Rio Grande Canal Company, which constructed an irrigation system to establish a sugar plantation. John Kelly formed the Pharr Townsite Company, which platted the town that he named Pharr in honor of his partner.
By 1911, the town of Pharr had established a bank, hotel, and several other prominent businesses, which all led to Pharr's rapid growth. Henry Pharr had hoped to establish a sugarcane empire, but that dream quickly dissipated due to the soil conditions. John Kelly took over the irrigation system and continued to supply water to vegetable and cotton farms.
In 1915, Pharr's population was estimated at 600. By the following year, that number grew exponentially. Pharr was incorporated in 1916 and officially recognized as part of Hidalgo County. W. E. Cage established the Rio Grande Clarion newspaper and the National Theatre that same year. Soon afterwards, Pharr and the neighboring town of San Juan established the Pharr-San Juan Independent School District. Forty years later, the city of Alamo was added to the school district, which became known as the Pharr-San Juan-Alamo (PSJA) School District.
In 1920, Pharr had an estimated population of 1,560. By 1931, the population grew to 3,225 with 105 businesses. By 1940, its population was 4,784. Pharr adopted a home-rule charter and a commission government in 1949. The population of Pharr increased from 8,690 in 1950 to 14,106 in 1960. Businesses in the 1960s included manufacturers of irrigation equipment, clay products, mattresses, food harvesting, processing equipment, and concrete products. In 1970, Pharr had 212 businesses and an estimated population of 15,829.
The city of Pharr holds precedence as the heart of the Rio Grande Valley since all visitors to the area must enter through Pharr before reaching their destinations. The city's rapid growth has never dwindled, and the City continues to grow and thrive today.
Newsletter
Sign up for Pharr information, news and events newsletter.